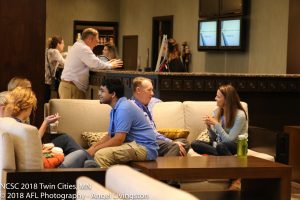 At the 18th National Catholic Singles Conference (NCSC) in Minnesota last year, the sense of community and fellowship was palpable! It made an impression on me. Both while I was there and in hearing stories after the conference, I realized that so many attendees have met new friends over the years, with whom they've stayed in contact ever since. Some have told me that they connect with their NCSC friends on a regular basis and plan to see each other at other times during the year, aside from the conference, meeting up to sightsee, hike, or take a vacation. Even for those who aren't in contact on a regular basis, the annual NCSC continues to provide the chance to reconnect and enjoy another fun experience together. It's been likened to a family reunion!
Just one illustration of this happened last summer when a loyal NCSC supporter celebrated his marriage to a woman he met at his 3rd NCSC (Grapevine, TX in 2016), and several friends whom he'd met at the conferences over the years were invited to their wedding. Another gentleman, whom I've known since his first conference in 2009 (Clearwater Beach, FL), just proposed to a woman he met at his 6th conference last summer in Minnesota! Congratulations to the happy couple!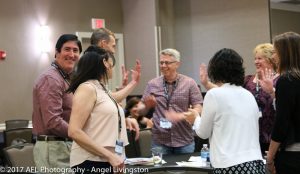 It's always such a joy to hear stories of how God has used the conference to build real community, which is something that those of us who are single really need! As C.S. Lewis says in The Four Loves, "What draws people to be friends is that they see the same truth. They share it." It's such a gift to have the opportunity to meet people who "see the same truth," who are seeking God and walking the same path.
All that to say that the hunger for real community has been on my mind since last summer and, as a result, I'm excited to share that we're hosting our first-ever NCSC Retreat this July!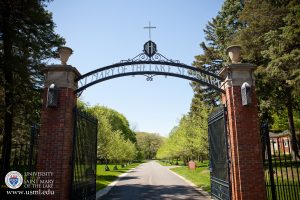 Topic: Remaining Relational in an Unrelational World

When: July 26-28, 2019
Where: Conference Center at the University of St. Mary of the Lake
(often referred to as Mundelein Seminary)
Mundelein, IL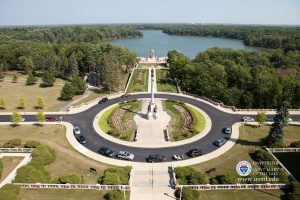 While the annual conference is always a highlight, a more relaxed and intimate setting (with participation capped at 200) will provide both an occasion to go deeper and more opportunities to easily interact with fellow retreatants. For all those staying onsite at the center, all meals will be together during the weekend, offering greater opportunities for good conversation and further discussion of the retreat topics. If time alone is what you need, the 900 acres of the University of St. Mary of the Lake campus give plenty of space for quiet contemplation – from the beautiful Chapel of the Immaculate Conception to the tranquil trail around the lake.
While this is a great chance to get away and refocus, this is also a great opportunity to see Chicago! The pre and post activities will offer the opportunity to explore "the Windy City" on Lake Michigan with friends, both before and after the retreat. Whether you appreciate the outdoors, art and architecture, great food, or historic sites – Chicago has all that and much more! Hope to see you there!
– Anastasia Northrop, NCSC Director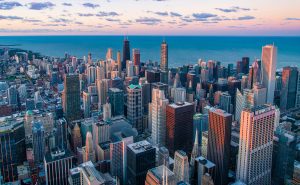 Posted February 20, 2019 in: Event by ncsc
---