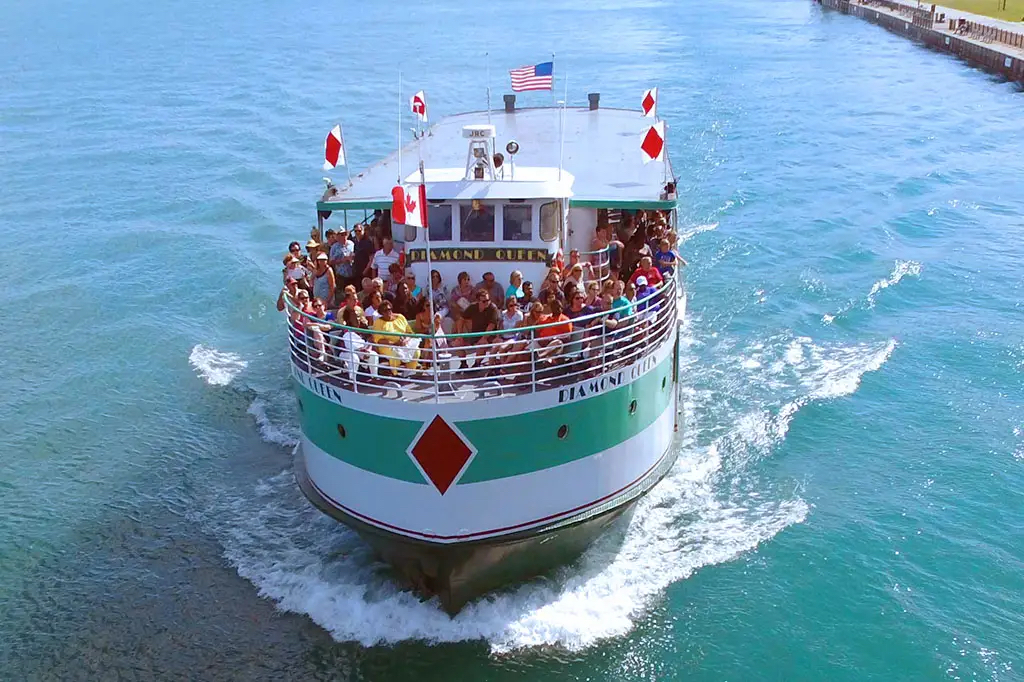 ---
Registration for events closes August 20th (or when full), unless otherwise noted.
---
Diamond Jack's River Cruise and Lunch
Join us on The Diamond Queen, for our own classic, rustic riverboat chartered luncheon tour, as we set sail Friday for a panoramic view of the Detroit skyline! The group will head downtown to The Riverboat for lunch on-board while we cruise, followed by our return for afternoon activities at Saint John's Resort.
Be sure to bring an extra layer to prepare for the cool breeze that is likely to be found if we venture outside to view the skyline or river scene from the outdoor deck of the ship.
This is a great opportunity to meet-up and network with others from the conference, possibly to get some great photographs from the ship, and to actually experience the magic of Detroit from the deck of the Diamond Queen Riverboat!
Schedule (Subject to change)
9:30 am – Meet up with the event's group leader in the lobby at Saint John's Resort to see who you can carpool with, or to call your Uber ride and look for your chance to make new friends and enjoy a great luncheon on-board the ship!
9:45 am – Depart from from Saint John's Inn via carpool or Uber
10:30 am – Arrive at Diamond Jack's riverboat and prepare for 11 am Lunch on-board (and departure to start the cruise)
10:45 am – All aboard! The cruise departs at 11 am (and lunch is served). Claim your seats on the Diamond Queen, visit the Cash Bar for beer/wine/mixed drinks (pay as you go for alcohol), and enjoy some great conversation with new friends and take some amazing Detroit photographs! Wander around the ship and take-in the fresh air and amazing views!
1:00 pm – Return to the dock, and car-pool or Uber back to Saint John's Resort (estimated arrival back to St. John's 1:45 pm.)
Time: 9:30 am – 2:00 pm
Costs: $65, private NCSC-chartered event includes Lunch on-board the Diamond Queen (water, coffee and soft drinks included). On your own for gas money (if carpooling) or Uber/Lyft, and for alcohol, gratuities and any other small expenses you might decide to indulge in along the way.
Cost listed does not include transportation. Parking is available near the dock. Please be prepared to use Venmo/PayPal/Zelle or cash to pitch in for gas for the carpool or share an Uber/Lyft. We need drivers for the carpool too, so please indicate if you can drive when you register!
One-way Uber cost estimate: $41-45/car
Hosted by Mark P.
Register by Friday, August 18th (may extend, space available)
---
Detroit Institute of Arts with Lunch in Greektown
Experience the best of Detroit on a captivating day trip! Immerse yourself in art at the renowned Detroit Institute of Arts, where masterpieces await your discovery. Indulge in a mouthwatering lunch at a local restaurant in the vibrant Greektown, savoring the flavors of Greek cuisine. Join us on this unforgettable journey of art, culture, and culinary delights, with the vibrant atmosphere of Greektown as the perfect backdrop. Book your spot now and embark on a day trip that will leave you with lasting memories of Detroit's artistic and culinary treasures.
Time: 9:00 am – 2:00 pm
Cost: $79
Includes: Local Guide, Lunch at a local restaurant, Admission to the Detroit Institute of Art, Tour of Detroit Institute of Art, Free time to explore the DIA after group tour
Not Included: Transportation. Please be prepared to use Venmo/PayPal/Zelle or cash to pitch in for gas for the carpool or share an Uber/Lyft. We need drivers for the carpool too, so please indicate if you can drive when you register!
One-way Uber/Lyft estimate: $41-45
Hosted by Michelle L – Mosaic Way Travel
Register by Sunday, August 20th
---
Hike at Kensington Metropark
Come explore over 700 acres of forests, fields, fens, and swamps on the nature trails at Kensington Metropark. We will be hiking 5 miles on the nature trails at the Kensington Metropark Nature Center. The hike will take approximately 2 hours to complete.
After the hike we will be heading to Buddy's Pizza in Novi for the Famous Detroit Style Pizza.
Come and explore one of the amazing parks we have here in the Southeast Michigan region.
Details:
9:00 am – Meet in St. John's Resort lobby
9:15 am – Depart for Kensington Metropark
10:00 am – Hike begins at Kensington Nature Center
12:30 pm – Arrive at Buddy's Pizza for lunch
2:30 pm – Arrive back at St. John's Resort
Kensington Nature Center – Use Google Maps, Waze, or Apple Maps for Directions. Important to save time from driving farther around the park is to enter off the Kensington Road Exit 151 off of I-96 into the park. Kensington is a very large park and from the other park exit on I-96 (153) is about a 10-15 minute drive through the park.
Lunch Location:
Buddy's Pizza, 44225 W 12 Mile Rd, Novi, MI 48377
Time: 9:00 a.m. – 2:30 p.m.
Cost: $3 reservation fee; lunch on your own (or split pizzas with friends). Please bring money for lunch and have cash or the ability to Venmo/PayPal/Zelle your driver to pitch in for gas and cover the park entry fee. Note: Park Entry Fee of $10 per Car for a Daily Pass or an Annual Pass is required for entry into Kensington Metropark. Carpooling options will be available. Please indicate if you can drive or need a ride when you register.
Hosted by Corey F.
---
Pre-Conference Speed Dating (and Sushi) Social! Back by Popular Demand!
Arrive back from your morning events and get ready to meet a bunch of new folks before the conference starts in a fun, low-pressure atmosphere! Begin by enjoying a delicious display of fresh fruit, artisanal cheeses, sushi – with a free drink – and more! Then just have fun connecting with new people before the conference begins!
Tired of swiping and typing? We've all been there. Hinge. Bumble. "What's your favorite color?" "Cats or dogs?" "Latin Mass or nah?" (Just kidding about that last one! Too soon?) Ditch your smartphone, and join us for a fun day of Catholic speed dating. (Actually, you'll need your smartphone. So don't ditch it quite yet @) Get ready to find the Sarah to your Tobiah. (Or the PB to your J!)
Availability will be based on keeping a 1-1 male-female ratio, so if there's not a slot available when you go to register, be sure to join the waiting list and watch your email! Register now to claim your spot!
Time: 3:30 p.m. – 6:00 p.m.
Please note: check-in and social and start at 3:30 pm. Two brackets will speed date from 4:00 – 4:55 pm and the other two from 5:05 – 6:00 pm. Feel free to relax with food, drink and great conversation while the other brackets are in progress.
Cost: $40 – Includes a pre-conference social with sushi, crudités, fresh fruit, an artisanal cheese display and a drink ticket (good for either an adult beverage or non-alcoholic drink).
Men may register for a second bracket (if within the age range) for additional $20.
Notes: On-site registration is not available. Smartphone required for the speed dating process, as the matches are delivered online that evening.
Hosted by NCSC/GS24 Members in cooperation with Hot and Holy Catholic Young Adult Singles.
Register by Sunday, August 20th