22nd National Conference for Single Catholics
Plymouth, MI
August 25-27, 2023
---
Check out our bonus Social Package below!
| Price Schedule | |
| --- | --- |
| Early-Bird (PLUS additional discounts – first 100 registrations) | $397 |
| General Admission – through July 31st | $447 |
| Late Admission – ends August 25th | $497 |
---
First time attending an NCSC/GS24 event? Register now and receive a special $30 discount off your in-person ticket! (Discount code given during registration process.)
---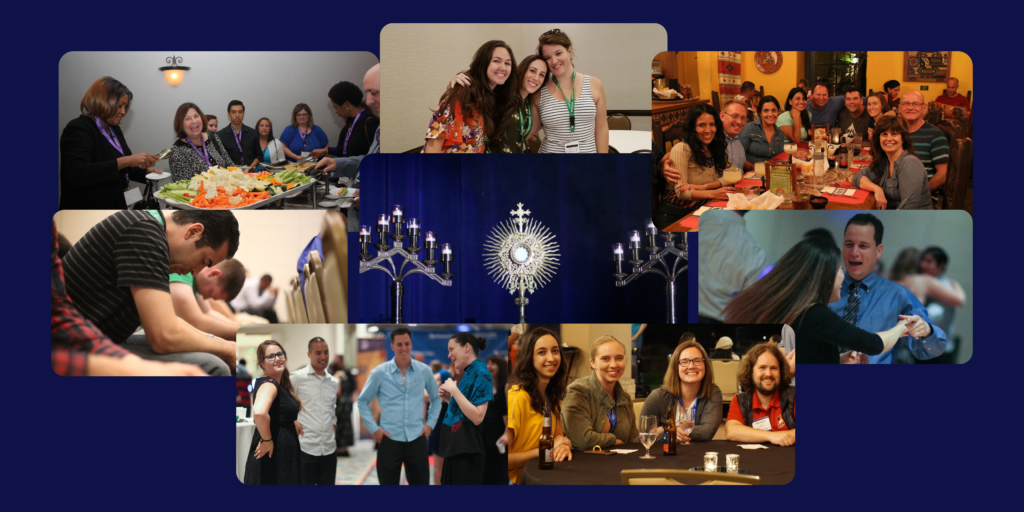 ---
General Registration includes:
Entrance to talks, music, liturgies, and exhibits throughout the conference
Plentiful opportunities throughout the weekend to meet new people!
Dance (and dance lesson!) on Saturday night
Hors d'oeuvres Reception Friday evening
Hot Lunch on Saturday
Complimentary membership on GS24 Community platform app August 15th-September 15, 2023
Please indicate any special dietary needs during the registration process. If you have any questions as to whether your particular needs can be accommodated, please email us through the Contact Us page. Registration does not include accommodation at the hotel. Please see the Hotel page for information on booking a room at our group rate!
---
---
Extra fun!
Bonus Social Package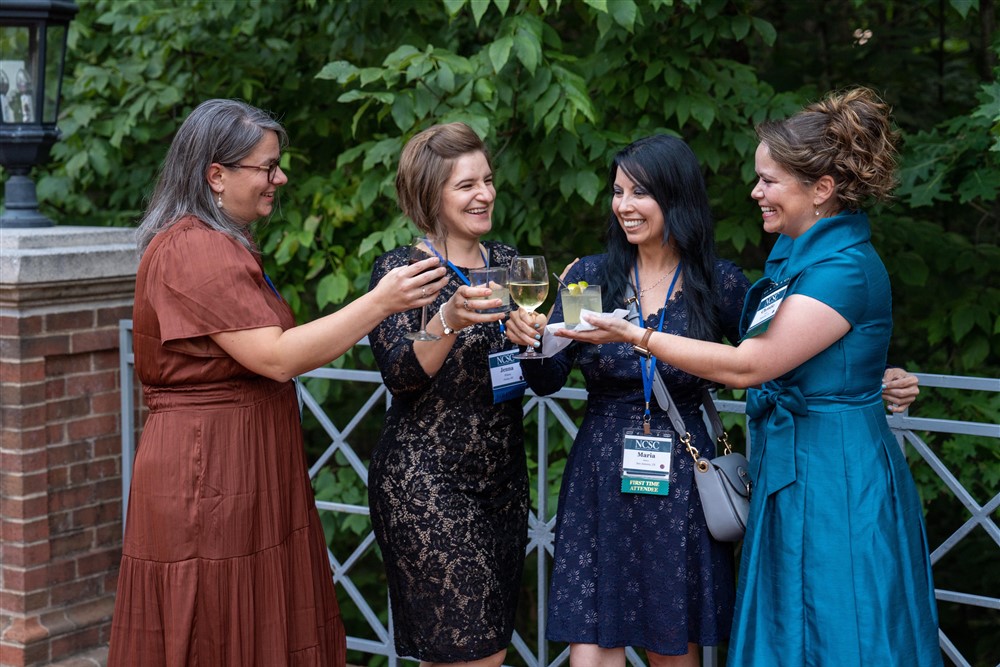 St. John Paul II Saturday Evening Reception (available separately: $100)
No need to leave the hotel to find food before the dance on Saturday! Take time during the late-afternoon break to rest and get ready for the evening festivities.
Come on down to the Mosaic ballroom in your cocktail/dance attire!
Enjoy relaxed conversation and fellowship over a generous spread of hors d'oeuvres with fellow NCSC participants before heading into the dance (without being confined to one table during dinner)
AND… your first drink is on us!
USB drive with mp3s (audio recordings) of selected conference talks (available separately: $30)
Be inspired far beyond the conference weekend!

Revisit favorite talks
Rest easy if you're in the middle of a great conversation and miss a session!
Year-long GS24 Community access through August 15, 2024 (available separately: $97/year)
Continued connection with other NCSC/GS24 Community members throughout the year
Members-only Video Resources on topics relevant to single life
NCSC-hosted Online Socials
Access to video chat, the NCSC community social wall, prayer wall, messaging with other app members and much more!
Access to GS24 Community-only events (both NCSC and volunteer-hosted, in-person and online)
Plus Priority access and discounts to other upcoming events!
Social Package+ UPGRADE: only $197 for ALL of that together!
---
---
To Register By Phone
By phone with a credit card (or to inquire about sending a check): 512-766-5798.
Registration Cancellation Policy
Refund requests must be made in writing and sent by email through the Contact Us page by Friday, August 11th to be eligible for a refund. A full refund minus a $75 administrative fee is available through July 15th. From July 16th through August 11th, a refund of 50% of your registration fee will be given. After August 11th no refunds are available. Instead of cancelling you may also donate or transfer your ticket to another person with written consent of NCSC. Instructions for transferring a ticket are here. There is no fee for a transfer. All substitutions/transfers must be fully completed by August 18th.

Please note that cancellation of conference registration does not constitute cancellation of a hotel room. Please be sure to handle both separately if you're unable to attend. Also, note that the hotel will charge a cancellation fee equaling the cost of one night plus applicable taxes if you cancel your room within 72 hours of your reservation date. If you need to cancel your hotel room you can first post on the Ride and Room Share page in case another attendee might want to take it instead, and thus save you the cancellation fee. You may also email us through the website to see if anyone is on the waiting list who needs a room.
Event Cancellation Policy
In the extremely unlikely event that the conference is canceled for reasons other than "acts of God," purchases will be refunded or transferred to the next conference. If the conference must be cancelled for reasons outside the control of the NCSC, defined under "acts of God" (extreme weather, natural disasters, war, terrorist attacks, pandemics, government orders, and like events) partial refunds will be given or put toward registration for the next conference.
The NCSC reserves the right to decline any registration at their discretion.
Partial Scholarships
Limited partial scholarships are available on a case by case basis for those in financial need, first come, first served. If in need of assistance, please click here to fill out an application. Scholarship applications will be reviewed and awarded bi-weekly, and each applicant will then be contacted with the results. Partial scholarship requests cannot be accommodated after August 11th. (We have limited funds for scholarships. Please only apply if you have a financial need impacting your ability to attend, so that we may enable as many people as possible to participate.)
If you would like to donate to the scholarship fund, to help enable others to attend, please click here. You can simply donate or you can include a donation during the registration process.