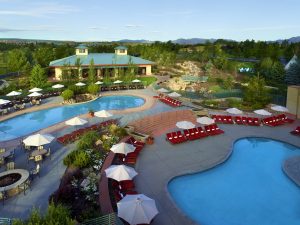 The Omni Interlocken Hotel
500 Interlocken Boulevard
Broomfield, Colorado, 80021
TEL: +1-303-438-6600
Update 8-14-21: The special NCSC group rate ended July 26th, but a couple rooms have come available through cancellations. If in need of a room, please email us through the "contact us" page ASAP, and no later than Monday, August 16th. See below for another local hotel option. This is a busy weekend for hotels, so rooms are scarce and rates will continue to rise.
IF YOU NEED TO CANCEL your reservation PLEASE CONTACT US FIRST as your nights could help another attendee. (If you cancel with the hotel directly then the rooms do NOT go back into our block and therefore cannot be used by other attendees.) Thank you!
Check out the Ride/Room Share page if you'd like to find a roommate to share a room!
Other local hotel: Towne Place Suites by Marriott (less than a mile from the Omni)
---
NCSC Omni Group Rate includes:
$155 (single/double) and $165 (triple/quad)
Complimentary basic wifi in guest rooms and common areas
Complimentary self-parking
24/7 fitness center and two outdoor swimming pools with large hot tub
Complimentary shuttle within 3 miles radius of the hotel
Complimentary shuttle to/from the RTD Flatiron station, with bus access to Denver International Airport
Check-in is at 3pm and check out at noon
See Travel section below for transportation details
Come early or stay late to explore Colorado and get to know fellow attendees during the pre/post events! Rate is available 3 days before and after the conference. (If you're unable to book all of your dates online, please call the hotel directly to ensure you get our group rate.)
The cancellation policy is 72 hours prior to arrival. Cancellations within 72 hours of arrival will forfeit 1 night room & tax.
Check out Omni's "Safe and Clean Initiative" here.
---
Save Money by Sharing a Room!
Visit our Sharing Rides and Rooms page and post there to arrange with other attendees to share a room. Alternatively, you can log on to the Facebook page.
Why staying in the Room Block is Important
Besides the great rate, you benefit from:
Better networking opportunities exist if you stay at the hotel with other attendees.
Reservations within the block are better protected from relocation.
Block rooms help support the conference. Meeting space rental and future room rates are based on in-the-block bookings, helping to keep the overall cost of your registration lower. Future cost savings for all depends on strong in-the-block bookings.
Don't Forget the Housekeeper!
Guests usually remember to tip the bell person or the concierge because they come face-to-face with these service providers. Many forget about one of the hardest working groups in the hotel industry: the housekeeper. Housekeepers are often women and work for low wages. The American Hotel & Lodging Association suggests leaving housekeepers $1 to $5 per day (on the higher end for luxury properties), and urges guests to tip every day, not just at the end of the stay. This is because different housekeepers might take care of the room on different days during the guest's stay.
---
Travel
Transportation to the Omni Interlocken Hotel from Denver International Airport
Airport: Denver International Airport (DEN) – 8500 Peña Blvd, Denver, CO 80249
Route: Denver Airport to Omni Interlocken Hotel
Time: 35 minutes (without traffic)
Cost: $40-$55 (depending on time of day and route taken; less for shared ride)
Frequency: On demand
OR
Route: 1) Denver Airport Station Gate 8 to US 36 & Flatiron Station then
2) Take Omni's complimentary shuttle to the hotel. Once you arrive at Flatiron Station, call the hotel for the shuttle: 303-438-6600. Please specify that you're with the NCSC or National Catholic Singles Conference. Service is not available for all hotel guests, just for our attendees. (Shuttle available 6:45 a.m. – 11:00 p.m. first come, first served)
Time: 45 minutes (bus with hotel shuttle – without traffic)
Cost: $10.50 (Tickets can be purchased at the station)
Frequency: Hourly
OR
Route: Denver Airport to Omni Interlocken Hotel
Time: 35 minutes (without traffic)
Cost: $45 (less for shared ride)
Frequency: Hourly
Use our special NCSC link for discounts (based on how many book together)
OR
Car Rental
Please note that transportation time from the airport varies based on time of day and whether or not you use the toll road.