---
Sunday, September 18th:
Register now! Space is limited and events fill up!
---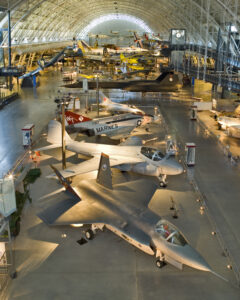 Air and Space Museum (2:30 pm – 6/8 pm)
Join fellow NCSC participants for a  trip to tour the Air and Space Museum – Steven F. Udvar-Hazy Center in Chantilly, VA – only 10 minutes away from the hotel! The Udvar-Hazy Center displays thousands of aviation and space artifacts in two large hangars, including the Space Shuttle Discovery, a Concorde, a T-38, the world's first supersonic trainer flown by the first woman to break the sound barrier, the Northrop N1M Flying Wing and many more! The trip will include a guided tour by a museum docent.
Schedule (subject to change):
2:30 pm: Meet in the hotel lobby
2:40 pm: Depart for museum by carpool/Uber/Lyft
3:00pm – 5:30pm: Museum visit (guided tour and free time to view extensive exhibits)
5:40pm: Depart for 6pm dinner at Pueblo's Tex-Mex Grill
Return to hotel (or your final destination) after dinner. (If you're not able to stay for dinner, please indicate that when you RSVP.)
Entrance to the museum is free, but parking is $15, so please come prepared to either chip in for parking if you carpool, or for Uber/Lyft. Reservations have been made for the group for dinner, but dinner is order/pay on your own. When you RSVP, please indicate if you will have a vehicle and can drive or if you will need a ride.
RSVP by September 14th. ($3 reservation fee) 
Hosted by Dan.
---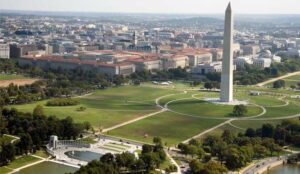 NCSC Friends Gather On America's Front Lawn! –
Fellowship, Lunch & Lawn Games – Washington, DC (2 pm – 6 pm)
For more than 200 years, the National Mall has symbolized our nation and its democratic values, which have inspired the world. The National Mall – the great swath of green in the middle of our capital city and stretching from the foot of the United States Capitol to the Potomac River – is the premiere civic and symbolic space in our nation.
NCSC friends will gather for an afternoon of lawn games and enjoy fellowship on the National Mall with views of the U.S. Capitol, Washington Monument, and Lincoln Memorial, from 2:30 – 5:30 pm. Our group will Lyft to the Smithsonian National Museum of American History and gather at a local cafe on the National Mall, where we will order lunch to-go and take to our lawn location to enjoy lunch on picnic blankets.
National Mall and Memorial Parks protect the National Mall and its iconic monuments and memorials and over 1,000 acres of greenspace in Washington, D.C. Click here for more information about the National Mall.
Plan to meet at 2:00 pm in hotel lobby to Uber/Lyft downtown. Lyft cost is around $30 each way, from the hotel to Mall – averaging ~$16 pp round trip for transportation costs. Please come prepared to chip in for your Uber/Lyft ride plus whatever you'll need for your lunch.
RSVP by September 14th. ($3 reservation fee) 
Hosted by Michelle.
---
2nd Annual Post Conference BBQ – 'Loaves, Fishes, and Smoked Briskets' (5pm – 11 pm)
Ask and you'll receive, knock and the door will be opened at the 2ndAnnual 'Loaves, Fishes, and Smoked Briskets' BBQ.
We'll gather just 2 miles up the road from the conference hotel, a quick and inexpensive Uber/Lyft ride to/from, or a nice evening walk. (Parking is very limited so please ride share, uber, or walk with a friend)
Main dishes, sides, dessert, sodas, water, domestic beer, and wine will be provided. Come for friendship, fellowship, and a fun time. Relax and share your best memory of this event – or any past NCSC event. Music, food, a bonfire, s'mores, fellowship, and most of all gratitude for friendships.
You are welcome to bring anything special on your own. Space is limited so sign up soon! Cost: $35
Site information will be sent after registration is completed.
Event at Capacity. Please email us to get on the waiting list.
Hosted by Beatrice and Peter.