---
Pilgrimage to the Mother Cabrini Shrine and a day in Golden (8:30am-8pm – All ages!)
Join us on a short pilgrimage to the Mother Cabrini Shrine, a shrine to Saint Frances Xavier Cabrini, located in Golden, Colorado. Born in 1850, in S'ant Angelo Lodiginao, Italy, she was the youngest of 13 children. After immigrating to the United States, she dedicated her life to helping the poor, the sick, immigrants and those less fortunate.  Her story is rich with determination, grit, and an unshakable faith in the Sacred Heart of Jesus.   The shrine site includes the Stone House, listed on the National Register of Historic Places as the Queen of Heaven Orphanage Summer Camp, a 22-foot statue of the Sacred Heart of Jesus, and a convent of the Missionary Sisters of the Sacred Heart of Jesus, the order founded by Mother Cabrini.  Note: Daily Mass is at 7:30 a.m., so we will miss Mass here.  There is no entry fee for the Mother of Cabrini Shrine, but donations are gladly accepted.
We will depart from the hotel lobby promptly at 9:00 a.m., so you will have time to get breakfast before we leave.   Tour will begin at 10:00 a.m. at the Mother Cabrini Shrine. We will depart around 1:00 p.m. and eat lunch at the Buffalo Bill museum.  However if you desire to spend the rest of the day at the Mother Cabrini Shrine, you can stay and have lunch in their cafeteria. We will come back to pick you up before heading back to the hotel that evening.
For those wanting to continue the journey into a little history of the area, after stopping for lunch at a nearby restaurant in Golden, we will head for Buffalo Bill's Museum, which is just a few minutes away.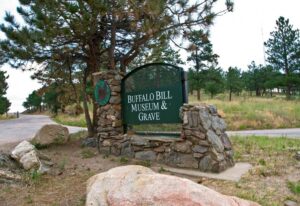 Born in 1846, Willian F. Cody experienced the Old West to its fullest.   His skill as a buffalo hunter gained him the nickname "Buffalo Bill."   Buffalo Bill's Wild West shows traveled the world leaving a lasting vision of the American West.  The graves of Buffalo Bill and his wife, Louisa Cody, are located adjacent to the museum.  A beautiful scenic, moderate one mile hike is also available from the museum.  The entry cost for the museum is $5.00 per person and you can pay at the door.  The museum closes at 5:00 p.m.
There will be an option to stop in Golden for dinner before returning to the hotel around 8pm OR you may join another group of fellow attendees for Mass and a Lebanese dinner at St. Rafka's Maronite Catholic Church. (Please see below for details.) Pre-Registration is required to attend the Lebanese dinner at St. Rafka's.
**Note: We are aware that the price for renting vehicles is currently very high, so to help offset the costs, NCSC will pay drivers per passenger. If you would like to volunteer to drive other passengers (to the Shrine AND BACK), please make a note on your registration form.
Pre-registration required to participate in this Pilgrimage. Click here to reserve your spot! RSVP by August 12th – registration closed

Hosted by Johnny and Jeff.
____________________________________________________
Zipline adventure (8:15am-4pm – All ages!)
Looking to try something adventurous while at the NCSC this year?  Well, join us for some ziplining fun!  Ride 6 long and exciting ziplines ranging from 850ft to over 1,900ft long at speeds up to 60mph between 30 and 250ft above the ground! Denver Zipline Tours is located in a beautiful nature park nestled in the Rocky Mountains at an elevation of close to 9,000ft. This tour includes a short scenic uphill nature hike as well as the two longest and two fastest ziplines in Colorado! 
More info and cool Youtube video for you to view HERE.  
Certified guides will be with us along the way to ensure our safety.  There is NO scary hand braking!  Guides bring riders to a safe stop! 
**Maximum weight limit is 245lbs (strictly enforced; everyone is privately weighed in at check-in.  Weigh-in does not include zipline gear but DOES include clothes and shoes). 
Also, please wear comfortable closed-toed footwear and bring plenty of water and some snacks if you wish. 
Schedule (subject to change):
8:15am – Meet in lobby of the Omni to arrange carpooling and depart promptly
9:30am – Arrive at Denver Zipline Tours and begin check-in
10:00am – Ziplining begins
1:00pm (approx.) – finish ziplining and head to Brooks Place Tavern and Restaurant for lunch.
3:30pm – 4:00pm (approx.) – arrive back at the Omni hotel
Cost: Approx. $100 for ziplining activity + $30 for round-trip transportation
***THIS TOUR IS OPEN TO THE PUBLIC SO PLEASE BOOK ASAP IN ORDER TO GET ON THE SAME TOUR.  IF THE SPACES FILL UP, WE WILL NOT BE ABLE TO ADD YOU ON TO THE TEAM ZIPLINE TOUR. 
Please note that when you sign up you will be charged a provisional group rate ($96.29). However, if fewer than 20 people register, then each person will be charged an extra $10-$11. 
This is a TWO STEP process to register:
1) Please RSVP and purchase your transportation by clicking
HERE
.
Instructions:
Choose 6-zipline
click "book now"
Put "your name"- "NCSC"(put you "NCSC" behind your name; so we know you are part of that group)
Choose August 19th and the 10am time slot
Enter code NCSC21 at check-out(located by payment)
There are only so many spots, so please book ASAP so we can make sure all of our group can be on the same tour.  If you have any questions or the time slot is not bookable please call 303-984-6151.
Hosted by Nancy and Katie. registration closed
____________________________________________________
Mass and Lebanese Dinner at St. Rafka's Maronite Church (5:30/6pm-10:00pm – All ages!
Join other NCSC participants for an evening of prayer and fellowship at St. Rafka's Maronite Catholic Church. There will be confessions and Mass with an authentic Lebanese dinner following. Either carpool from the hotel or meet the group at St. Rafka's.
Schedule (subject to change)
-5:30pm and 6:00pm: Depart Omni for St. Rafka's – (We may organize TWO different departure times depending on need, so that we can include those who will be arriving later from the airport.)
-6:00pm: Confessions available and recitation of the Holy Rosary
-6:30pm Mass
-7:30pm: Lebanese Dinner in Church Hall
Return to hotel: TBA
Costs are approximate but please budget accordingly: Transportation ($10-$15), Dinner ($19) For those participating in the carpool and don't have your own vehicle: Please make sure that you have enough cash or can venmo or payal the driver. (Rental cars are pricier than usual right now, so everyone pitching in for gas/car rental will help make it possible for some attendees to rent a car for the weekend and offer rides to all those who don't have their own vehicle.) If there are not enough vehicles, then your group may decide to share an Uber or Lyft.
Pre-Registration required to attend. Click here to RSVP.  Sign up by August 15th. registration closed

Hosted by Peter and John.
____________________________________________________
Dinner at the Omni Tap Room Restaurant and Bar (6pm-?- All ages!)
Flying in later on Thursday and just want to relax and grab a bite to eat at the hotel? Join other NCSC attendees for a classic pub experience with craft beer, billiards and dinner. We will gather at 6pm near the Tap Room Restaurant and then be seated as a group.  Hosted by Carolyn.
---