Registration for events closes August 20th (or when full), unless otherwise noted.
---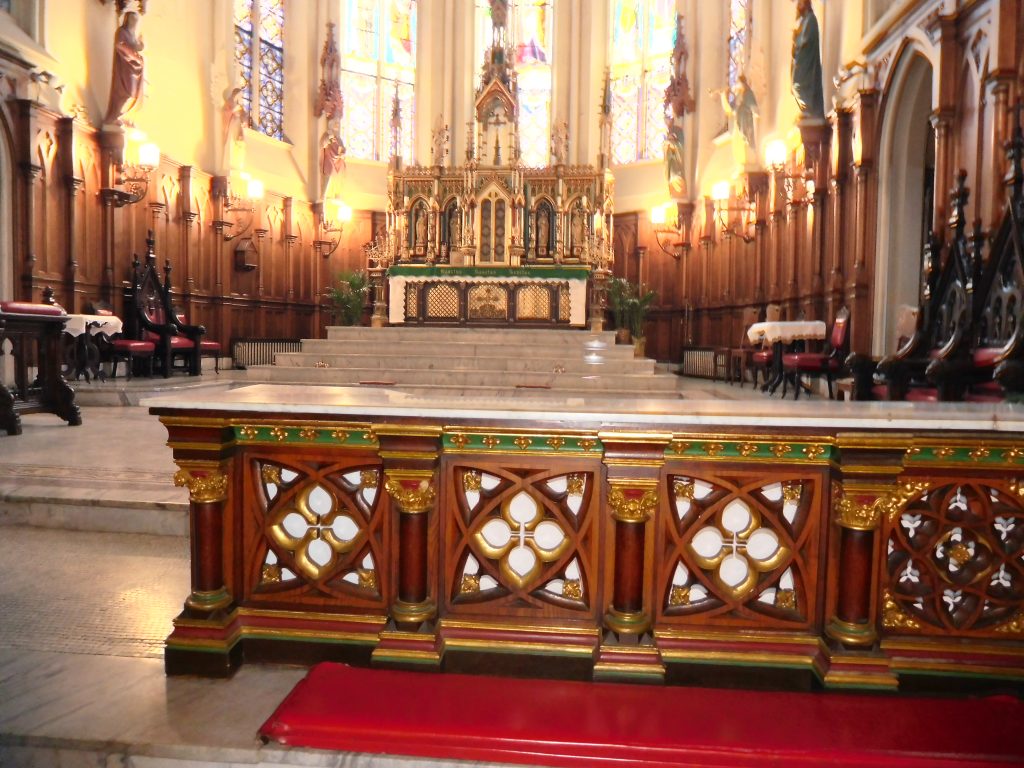 Detroit Churches & Solanus Casey Shrine Pilgrimage
Visit six magnificent Michigan churches on a guided tour that includes stops at churches dedicated to Our Lady and some of your favorite saints. Enjoy historical presentations, Mass, silent Adoration, song, and prayer teams ready to lift up your intentions with you at these seriously stunning local churches. They are staffed by a variety of religious communities and diocesan priests. You can visit the tomb of Blessed Solanus Casey, a humble Detroit miracle worker, who is still at work. We will enjoy our sack lunch, prepared by the Capuchin's Rise Up! Cafe, on the grounds of St Joseph Shrine, where you can glean a plenary indulgence by visiting this year! Bring a little extra cash for lighting candles, a dessert purchase at the bakery or for something special from the Capuchin gift shop!
These Detroit churches are extraordinary. Photos offer a glimpse. Appreciating the beauty of these particular churches, the power of the pilgrimage, goes beyond words. It requires the experience of it! If you are thirsty for beauty, or ready to share in it, join us! We have a wait list ready should we need another bus. If the tour cost is prohibitive, please contact Catholic Church Tours for alternatives: info @CatholicChurchTours.com.
Catholic Church Tours is a not-for-profit, run entirely by volunteers. All our funds go directly back into opening the doors of our Churches for others to enter, see, learn and appreciate.
Time: 9:00 a.m. – 5:00 p.m.
Cost: $69.50 – covers transportation, guided pilgrimage and lunch
Hosted by Nell A. and Keri T.
REGISTER HERE (August 17th update: Just 7 spots left!)
---
Henry Ford Museum / Greenfield Village
Voted "one of the country's best museums" by Condé Nast Traveler, The Henry Ford's 250 acres of innovation offer a one-of-a-kind experience. The Henry Ford Museum in Dearborn, MI contains many interesting items from history. The Museum also has Greenfield Village close by that provides a "step back in time to the sights and sounds of old America" – a National Landmark that has artifacts from 300 years of American history.
Schedule (Subject to change – and can vary depending on which ticket you purchase)
9:30 am – Depart from St. John's Resort lobby to drive to Henry Ford Museum in Dearborn, MI
10:15 am – 1:00 pm – tour the Henry Ford Museum
1:00pm – 2:30pm – Lunch
2:30 pm – 5:00 pm (or so) – Visit the Village
6:00 pm – Arrive back at St. John's Resort
Time: 9:30 am – 6:00 pm (return time variable)
Costs:
Greenfield Village and Henry Ford Museum admission: $62.50 (including the $12 per/transaction parking and convenience fees – great combo deal!)
Henry Ford Museum only: $42 (including the $12 per/transaction parking and convenience fees)
Greenfield Village only: $45 (including the $12 per/transaction parking and convenience fees)
If you would like to visit include the Factory in your visit, please purchase your tickets online yourself and just email us to be added to the list if you wish to carpool with the group or share an Uber/Lyft.
Cost listed does not include transportation or lunch. Please bring money for lunch and be prepared to use Venmo/PayPal/Zelle or cash to pitch in for gas for the carpool or share an Uber/Lyft. We need drivers for the carpool too, so please indicate if you can drive when you register!
One-way Uber cost estimate: $41-45/car
Hosted by Christie W. and Johanna F.
---
Dinner and Trivia Fun at St. John's Resort!
We all desire fellowship and we all need to eat, right? What better way then to spend time dining and engaging with other NCSC friends right here at the St. John's Resort. Enjoy dinner together and then team up to answer trivia questions from a wide range of topics. We will begin at 7pm in the St. John's restaurant/lounge area for dinner with trivia to follow! Sign up early to secure your spot; space is limited.
Cost: $3 reservation fee. Pay for dinner on your own.
Hosted by Kevin M. and Nancy V.
---
Other Thursday Evening options
NCSC participants / GS24 Members are organizing a couple impromptu options for Thursday evening. Events will be posted on the GS24 platform/app, which participants will have access to. If you'd like to lead one, please email us through the Contact Page.
---